Q&A with Ruperd Wilson II, Electrical Engineer at Raytheon Technologies
Wilson, an electrical engineering alumnus, shares professional advice from BCOE students in an engineering guidebook
Ruperd Wilson II, an electrical engineering alumnus from the Marlan and Rosemary Bourns College of Engineering (BCOE) Class of 2019, is one of many engineering students who has grappled with the balance between academic success in one of the toughest disciplines with a healthy personal life. 
Searching for answers, Wilson turned to his peers at BCOE and dug into their stories to discover their best practices for navigating engineering school and securing career positions from internships to full-time jobs. He spoke to students with different experiences and majors.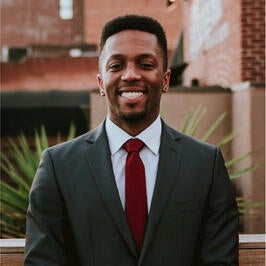 With this new knowledge and inspired to pay it forward to future engineers, Wilson compiled his findings into "A Blueprint for 'Engineering' School Success: The ultimate guide to finding internships and balance as an engineering student." The helpful guide is now publicly available for use by BCOE engineering students or any engineering pupil looking to be successful.
Topics covered in the book include advice for securing internships and research positions, developing soft skills, maintaining work-life balance, time management, and much more. 
Published by the Council for the Advancement of Black Engineers (CABE), Wilson's book was made possible through the support of his mentor, Ernest Levister, Jr., M.D., co-founder of CABE and a member of the BCOE Council of Advisors. 
In the book's forward, Marko Princevac, PhD, associate dean and professor of mechanical engineering at BCOE writes, "Having experienced the power of peer mentoring, I am pleased to see that one of our own students, Ruperd Wilson, compiled a set of interviews with engineering students to help those who are just setting out on the path toward their careers. Welcome to your study of 'rocket science' and the development of skills and knowledge that will enable you to make a lasting difference for yourself and future generations through engineering!"
Q&A with Wilson: 
1. What was your inspiration for writing the book?
I began writing "A Blueprint for 'Engineering' School Success" after my third year at BCOE. I was looking for a way to give back to the BCOE community before I graduated. I was also looking for an interesting challenge to keep my mind occupied. Throughout my college career, I learned several life hacks that helped me land internships and succeed in the classroom with less effort. I also knew that several of my friends had unique strategies that allowed them to do the same. I decided that a good way to give back to the BCOE community would be to compile these life hacks into an easily digestible guide that new engineering students could use as a resource to get ahead.
2. Describe what readers will discover in the book. What do you hope people gain after reading it? 
This book gives readers a glimpse into the minds of several successful BCOE students and alumni. In "A Blueprint for 'Engineering' School Success," students lay out their strategies for landing internships, obtaining high grades, succeeding in leadership positions, and having a balanced life as an engineering student.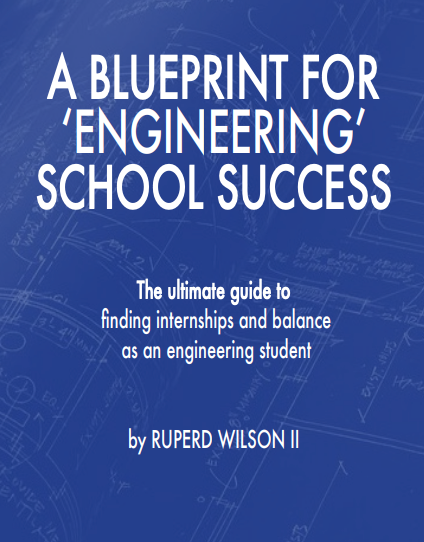 3. During your time at BCOE you held a number of internships before graduating and landing a full-time position at Raytheon. How do you recommend students get ahead and excel in these engineering internships?
One thing that helped me excel at my internships was conducting informational interviews with different people throughout the company. If there was a full-time employee doing work that I was interested in, I would schedule a thirty-minute meeting with them. These meetings were generally during lunch. I would ask questions about their work and how they got to the position that they are in. I scheduled 2-3 interviews like this a week. This helped me build relationships with a lot of people at the company in a short amount of time which increased my chances of getting a full-time offer.
4. Looking back, what advice would you give yourself when starting out as a BCOE student? Would you do anything differently?
I would tell myself to start applying to research positions and internships as soon as possible. I was under the impression that it was nearly impossible to land an internship as a freshman. However, this is not the case. A few students in the book detailed how they landed positions as freshmen, demonstrating that it is possible.
5. What is the best part about being an engineer?
The best part about being an engineer is that the field is constantly evolving and changing. It is impossible to get bored. There is always something new to learn.
Download Wilson's book "A Blueprint for 'Engineering' Student Success" here.