Plastic-to-Fuel Research Gets Boost with Hellman Fellowship
Chemical and environmental engineering assistant professor Abdul-Aziz takes upcycling to the next level with novel approach
Kandis Leslie Abdul-Aziz, chemical and environmental engineering assistant professor at the Marlan and Rosemary Bourns College of Engineering (BCOE), was awarded the 2020-2021 Hellman Fellowship for her research "Sustainable Chemical Recycling Technology for the Upcycling of Plastic Waste into Fungible Fuels."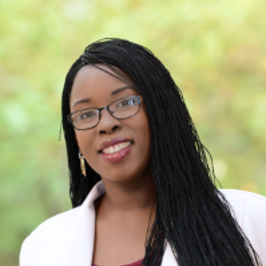 The fellowship, in the amount of $30,000, will support research conducted by Abdul-Aziz to develop catalytic strategies that convert plastic waste into commodity chemicals. The research team includes Mark Gale, a chemical and environmental engineering graduate student at BCOE. 
The project will develop a scalable chemical recycling process to break down products such as water bottles, textiles, Styrofoam and storage containers. Drawing inspiration from nature, the process purifies, decomposes and converts plastic waste. 
In similar research endeavors, outputs have been largely unsuccessful due to challenges of energy input and high costs. Abdul-Aziz's novel approach will focus on lowering costs and energy barrier for chemical processes that break down and valorize plastic waste. 
Ultimately, the goal is to support a closed loop circular economy, one in which products are reused or upcycled, rather than a linear economy, one in which materials are disposed of. Abdul-Aziz said this will "eliminate the environmental harm that comes from today's take-make-dispose model and contribute to the sustainability of the renewable energy industry." 
The potential impact of this project is of no small scale. Products derived from recycled polymers, the materials Abdul-Aziz is working with, have a value of approximately $120 million in the United States and Canada. 
"The success of this project, therefore, will represent a significant technological breakthrough, an important economic opportunity, and a drastic reduction in environmental pollution, CO2 emissions, and hazardous chemical releases," said Abdul-Aziz. 
The UC Riverside Hellman Fellows Program was established by funds from the Hellman Fellows Fund. The program aims to support research and creative activities of promising faculty at the assistant professor rank who exhibit potential for great distinction in their area of expertise.