In 2020, the Marlan and Rosemary Bourns College of Engineering (BCOE) secured four new major grants, research centers and collaborations funded by the National Science Foundation and the Department of Defense. In doing so, the college achieved two major campus milestones: securing UCR's first collaboration in an Engineering Research Center as well as a $7.5 million grant from the Department of Defense, one of the largest federal grants UCR has ever received.
"Through these research centers, the Bourns College of Engineering has expanded its possibilities for discovering groundbreaking engineering solutions that shape and improve our future," said Christopher Lynch, dean of the Marlan and Rosemary Bourns College of Engineering. "Resulting partnerships with collaborators at other institutions offer exciting, hands-on opportunities for our graduate students and undergraduate students who want to get involved in research."
These newly secured research projects leverage faculty expertise in bioengineering, computing, materials and nanoengineering.
Advanced Technologies for the Preservation of Biological Systems (ATP-Bio): In a landmark win, the college secured UCR's first successful collaborative bid for an Engineering Research Center (ERC) in the campus' history. The National Science Foundation (NSF) awarded a $26 million ERC to the University of Minnesota and Massachusetts General Hospital, in collaboration with UCR and UC Berkeley. The center, called ATP-Bio for short, aims to "stop biological time." Mechanical engineering professor and chair Guillermo Aguilar leads the UCR-led Thrust Area 3: Rapid and Uniform Warming and is joined by Lorenzo Mangolini, also of mechanical engineering, and chemistry professor Yadong Yin. Read more.
Center for Networked Configurable Command, Control and Communications for Rapid Situational Awareness (NC4): One of the largest federal grants UCR has received, this $7.5 million Department of Defense Center of Excellence will develop secure, fully networked command, control and communications infrastructure to enable integrated and optimal decision-making. Professor of electrical and computer engineering Amit Roy-Chowdhury and professor of computer science Srikanth Krishnamurthy will co-direct the center. UC San Diego and the U.S. Army Combat Capabilities Development Command Army Research Laboratory are partners on the project. The center will have a major educational component and create a pipeline for future engineers to be involved in research, especially underrepresented student groups. The center will host a kick-off meeting in February 2021. Read more.
Materials Science in Extreme Environments University Research Alliance (MSEE URA): The college joins this collaborative alliance of 18 research institutions led by Johns Hopkins University, which will work closely with the Defense Threat Reduction Agency to advance fundamental science to reduce the threat of weapons of mass destruction. Distinguished professor of chemical and environmental engineering Michael Zachariah will lead Research Area 2: Materials and Manufacturing for Synergistic Effects. Zachariah is joined by professor of mechanical engineering Lorenzo Mangolini and professor of electrical and computer engineering Bryan Wong. Read more.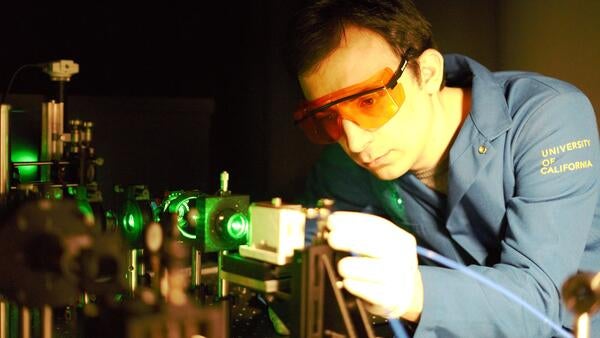 New spectroscopy facility at the Phonon Optimized Engineering Materials (POEM) Center: An exciting new addition is in the works at UCR's POEM Center – a unique spectroscopy facility. Funded by the National Science Foundation, the project will build an integrated micro-Raman-Brillouin-Mandelstam spectrometer system that can analyze samples at cryogenic, or extremely low, temperatures, and cover a much wider spectrum range than its predecessors. Distinguished professor of electrical and computer engineering Alexander Balandin leads the project with Fariborz Kargar, adjunct assistant professor. Read more. 
For more information on new BCOE research projects, visit https://www.engr.ucr.edu/news or follow the college on Twitter: https://twitter.com/UCRBCOE.