In April 2013, the Thomas H. Payne Scholarship in Computer Science was established with gifts from Professor Payne's former students, colleagues, friends and family. Nearly a decade later in 2021, and just in time for Professor Payne's 79th birthday, the fund has grown to $79,079. The fund was established to support undergraduate students in computer science.
"It was both humbling and exciting when I learned we had reached the $79,000 goal for the scholarship," said Professor Payne. "Humbling because it is an honor to be remembered by my former students, colleagues, and friends, and exciting to see how willing they are to help the next generation of students in computer science."
Thomas H. Payne received a Ph.D. in Mathematics from the University of Notre Dame in 1967. As a young man, Payne began a career at UC Riverside that would span over five decades. In his time at UCR, he frequently taught the CS10, 11, 12 entry series and upper-division course on compilers (CS152) and on operating systems (CS153). His research focused on areas of computing and formal logic, including computability theory and set theory.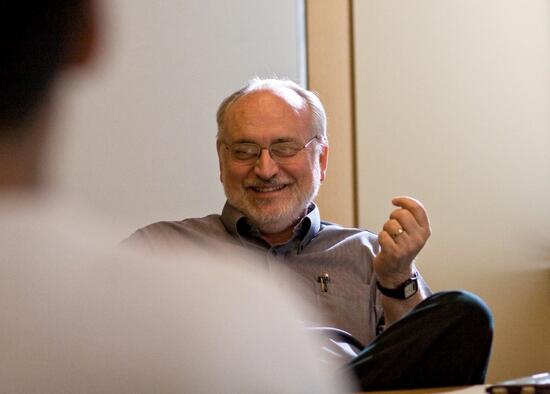 Payne saw the creation of the Bourns College of Engineering in the early 1990s, served as department chair from 1994 to 1999 and again from 2002 to 2007, during which time he was instrumental in the growth of the Computer Science and Engineering department. Since then, the department has become the largest engineering department at the college and is top—ranked by CSRankings in multiple categories: 6th in High Performance Computing, 7th in Design Automation, 12th in Computational Bio and Bioinformatics, and 15th in Systems category overall. 
Payne is well-known for being a trusted faculty member, mentor and friend to countless students and colleagues. He was more than a professor to thousands of students; he influenced and inspired them beyond the classroom. As former students said in a special video dedicated to Payne:
"You are one of those professors; I can still remember not only all your terrific lectures, but also our discussions outside the classroom," said Brian Hawley, 1990 B.S. and 1991 M.S. in Computer Science.
"Thank you for being the leader, the voice, and the storyteller, the person that helps explain why things are the way they are," said Titus Winters, 2004 M.S. and 2006 Ph.D. in Computer Science.
With the creation of the scholarship, Payne continues to inspire BCOE's computer science students.
"It's more than just the scholarship, it's more of a recognition," said Lucca Psaila, a fourth-year computer science undergraduate student and recipient of the Thomas Payne scholarship. "You have shown students like me that we're appreciated and acknowledged for the things that we do and the accomplishments we make. It allows me to continue on knowing that people are paying attention."
In a thank you message to the scholarship committee, Psaila continued that receiving the scholarship has inspired him to pay it forward after graduating, saying, "I know one of the first things I'm going to do: give back to my school and help other students who are in my previous situation."
If you'd like to contribute to the Thomas Payne Scholarship in Computer Science, visit: https://crowdfunding.ucr.edu/o/university-of-california-riverside/i/ucrcrowdfunding/s/happy-birthday-thp