More than 50 students, faculty and staff collaborated across UC Riverside to host the inaugural annual UC Riverside Aerospace Conference on Saturday, April 17. Initiated and led by students, the event was a huge success in providing more than 250 UCR and local high school students with a unique opportunity to learn about the resources offered at UCR related to the aerospace industry, as well as gain insights on how to start their journey towards a career in aerospace.
The event kicked off with keynote speeches from Christopher Lynch, dean of the Marlan and Rosemary Bourns College of Engineering (BCOE), Hossny El-Sherief, electrical and computer engineering lecturer at BCOE, and Priyanka Kompella of Relativity Space.
Students networked with recruiters from prominent aerospace companies including Boeing, NASA, Relativity Space, and Northrop Grumman, as well as UCR alumni from JPL, SpaceX and Raytheon. Three award-winning UCR student projects were featured from Aerospace Systems, Highlander Air, and UCR Unmanned Aerial Systems (UCR-UAS), along with two workshops that connected students with professional and technical opportunities at UCR. Finally, the UCR Aerospace Conference concluded with the raffle of a brand-new 3D printer and Amazon gift cards.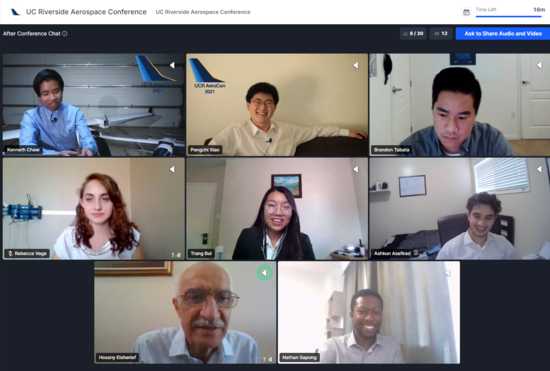 The conference was the brainchild of three ambitious UCR undergraduate students: Pengchi Xiao, a third-year business administration, information systems student, Kenneth Chew, a second-year mechanical engineering student, and Brandon Tabata, a second-year mechanical engineering student.
"I love aerospace engineering and I wanted to provide students at UC Riverside with a platform to learn and exchange ideas," said Pengchi Xiao, co-founder of the UCR Aerospace Conference. "I wanted to create a community of like-minded students who are passionate about aerospace to come together and reach a destination beyond our imagination."
Xiao and Chew aspired to bring more value and opportunities to fellow students, such as professional development, industry networking, and the chance to feature themselves and their work in front of a large audience. "We really leveraged the online nature of events and gatherings this year to maximize our reach within UCR and our community," according to Kenneth Chew.
They began preparations as early as January 2021, and with the help from other passionate team members across a multitude of student organizations, setting the foundation of the UCR Aerospace Conference.
What formed was an interdisciplinary committee with students from the College of Engineering, the School of Business, as well as the College of Humanities and Social Sciences. Each of these members, with specialized skills in financial management, marketing, operations planning, information systems, project management and visual design, pooled together their expertise to make the event happen.
A largely collaborative effort, the conference was organized by students in UCR Unmanned Aerial Systems (UCR-UAS), Management Information Systems Society (MIS Society), Aerospace Systems, American Society of Mechanical Engineers at UCR (ASME), Highlander Air, and the Institute of Electrical and Electronics Engineers at UCR (IEEE), in partnership with UCR organizations including Blackstone Launchpad at UCR, the Marlan and Rosemary Bourns College of Engineering, and the UCR Career Center.
Relativity Space and Launchpad at UCR were proud sponsors of the event.
According to the UCR Aerospace Conference market research team, which was comprised of business students at MIS Society, over 60 percent of conference attendees were current UCR students, 30 percent were UCR faculty and friends, and ten percent were prospective UCR students.
"This Aerospace Conference has connected people to the opportunities available at UCR and in this field," said Trang Bui, Operations Specialist at UCR-UAS and Operations Manager for the event. "It has pushed the industry forward and is a testimony to how students can be part of something more if they truly have the passion for it."
For more information on the UCR Aerospace Conference, visit https://ucrac.com.