Vagelis Papalexakis, an assistant professor of computer science, has been awarded the Marlan and Rosemary Bourns College of Engineering's (BCOE) Distinguished Teaching Award. In a decades-long tradition, the annual distinction is given each year to faculty members for excellence in teaching at the college. 
The award selection committee, comprised of BCOE engineering faculty, pointed to Papalexakis' "strong record of innovation in education both in and out of the classroom, a reputation for inspiring and energizing our students, and an eagerness to promote and support the college's educational mission both on-campus and beyond."
"The feeling of knowing that what a student learned in my class was useful in making their life better in any way (such as landing their first job or advancing their career) is deeply humbling and priceless," said Papalexakis. "Every time a former student reaches out with their story, that is enough to make my day and to remind me of a huge reason why I love this job."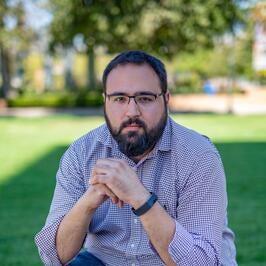 Papalexakis has served as an assistant professor in the Computer Science department at BCOE since August 2016. His research is largely focused on tensor decompositions for machine learning and data science.
Students at BCOE have felt empowered by Papalexakis' mentorship, including Zubair Qazi, a computer science student and former board member of Cyber@UCR and the Association for Computing Machinery.
"Professor Papalexakis is obviously very well-versed in and passionate about the subjects he teaches, but he also cares immensely for the success of his students," said Qazi. "Professor Papalexakis has always been willing to go out of his way to help guide students who are unsure of their future career path, and he has absolutely helped me in that regard as well."
Reflecting on the relationship between education and research, Papalexakis said, "In addition to the primary mission of teaching, which in my view is to educate, inspire, and empower students, it is also a major catalyst for how I approach research. Learning how to think about (and hence explain) a concept in different levels of abstraction and assuming different kinds of background knowledge, has had a direct positive effect on my research, from training students to identifying research directions and dissecting them in such a way that makes the challenges and opportunities clear."
Papalexakis' recent accomplishments include receiving the prestigious National Science Foundation (NSF) CAREER award to combat online misinformation and unlock the mystery of black holes through autonomous tensor analysis. The goal of this five-year award, is to democratize unsupervised exploratory tensor analysis – making it more accessible while producing actionable insights from the data.
In addition, Papalexakis is part of a research team that is developing artificial intelligence to increase the environmental and economic stability of agriculture in the Western United States. This $10 million grant is one of nine given by the U.S. Department of Agriculture's National Institute of Food and Agriculture and the third largest grant in UCR's history.