BCOE student engineer Etchi Ako wins first place at NSBE Fall Regional Conference
Third-year bioengineering student of the Marlan and Rosemary Bourns College of Engineering (BCOE) Etchi Ako is making a big impact beyond BCOE engineering classrooms and labs.
This past month, Ako secured first place at the National Society of Engineers (NSBE) Region 6 virtual Fall Regional Conference in the Technical Research Exhibition for a project entitled "Downregulation of Genes by Neuregulin-1 in pMCAO Stroke Models." The conference and competition brings together hundreds of NSBE engineering students from across the Western United States.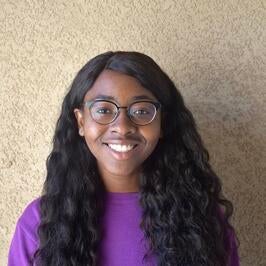 Ako's award-winning project examines the drug Neuregulin-1 (NRG-1) as a potential treatment for stroke and analyzes how treatment affects gene regulation in rats after a stroke. The project is specifically focused on genes that were downregulated following NRG-1 treatment. Preliminary results suggest that genes downregulated by NRG-1 may be part of pathways that amplify apoptotic responses, or the death of cells. Ako reports that future studies will include further pathway analysis.
That same weekend as the conference, Ako made time to inspire the next generation of engineers to pursue a higher education in STEM. Ako facilitated a virtual outreach event with Palm Middle School in Moreno Valley as part of NSBE's Mentorship Program, where she serves as Academic Excellence Chair for the NSBE UCR chapter. Getting to directly connect and learn from college engineering students, middle schoolers created a 'balloon rocket' and learned about pressure and thrust. The event was a joint effort with the Society of Hispanic Professional Engineers (SHPE) UCR chapter.
"I want to thank my principal investigators Dr. Victor Rodgers and Dr. Byron Ford as well as the B2K Group for all of their guidance and support with my research project," said Ako. "And I would like to thank the UCR NSBE chapter for their support, and for giving me a space where I can develop my professional skills and build confidence as a Black engineer."
After graduating, Ako plans to attend graduate school and obtain a Ph.D. in bioengineering. Ako's career goals are to work in the pharmaceutical engineering industry and ultimately develop new drugs or medical devices that can restore vision to the blind and visually impaired.
Know of a BCOE student making a big impact beyond the classroom and lab? Tell us about it at news@engr.ucr.edu.